Every year, one must aspire to update their wardrobe, if only to be rid of ill-fitting clothes. Before one dives into sartorial oceans, be aware of this year's permeating fashion statements.
Colored Pants
Vibrantly hued trousers made a dramatic effect this year. Inside boots, over sneakers, under a hip coat, it is undeniable how colored pants catch the eye. Which is good because the average denim and khaki color has been boring for a decade now. I am pretty sure that in 20 years, people can look upon this concept and not be ashamed, unless the people shown in such pictures wore buff/skin tone pants. Or...
You can try coated pants.
Metallic and pearlescent sheens were popping up on women's clothes throughout the year. It brings to mind the hair metal glory of the 80's. One may consider the style gaudy, but many others embrace it for the levels of nuanced fashion involved. My greatest concern is that these textured articles of clothing will cost the consumer a pretty penny, but trying to work around the dollar and reconstructing clothes leads me to the next item of permeating fashion: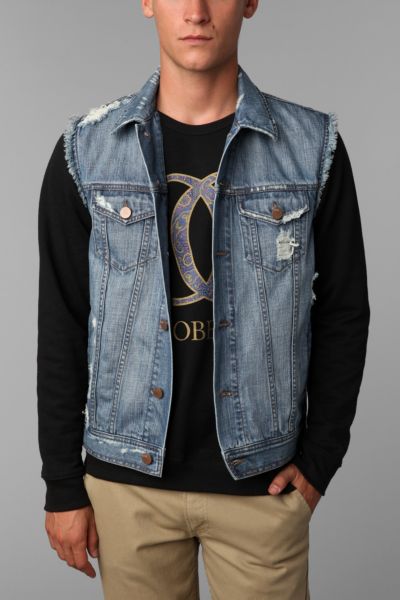 The denim vest
This look has been beautifully revived. Its very existence in the fashionista arsenal implies that blue jean denim is ill-suited for human legs. The prospects are exciting when one joins the denim vest brigade. I recently dug up a denim jacket that my dad wore in the past, in all its distressed/faded denim glory. Those sleeves were cut down like so many foot soldiers at the blade of the cavalry. The underlying idea with these clothes is to take scissors to the hems and modify them to suit a fit. Reconstructing clothing is recycling, reducing, and reusing.
Leggings....for MEN
This is my current holy grail of mens fashion. One may not have seen this around, but the brave have triumphantly rocked such a look. We salute you. I wandered across this concept a couple of years back while sifting through Shinjuku street wear blogs. When properly layered, leggings will accentuate an elite style that draws a healthy amount of hatred, and the minimum level of compliments.
Boots
A good pair of stompers always catch my eye, and once more, I am envious. Not only do women get the best colors for just about every article of clothing, they get the choice footwear. It is largely because I want to dress like a superhero from the 1990's comic books. However, I have tried my hand at the heavy duty foot/skinny leg concept, and have found modest success pairing all-weather boots with red jeans under a varsity jacket. I can't be sure yet if a man will victoriously wear knee-high boots ever again. Alas, fashion is at heart an amusing social experiment.
Snapbacks
Hats were an over-saturated commodity in men's wear this year. Take it as you will, but there was no end to the styles of New Era, UNDFTD, Supreme, etc etc that cropped up on a guys dome. I still wear a cap, but very sparingly. I have beanies and other accessories for my cranium. There is yet to be that profound moment when I realized reading glasses under a snapback has revolutionized my fashion sense. I would like to personally thank Driicky Graham for averting my interest in wearing ball caps.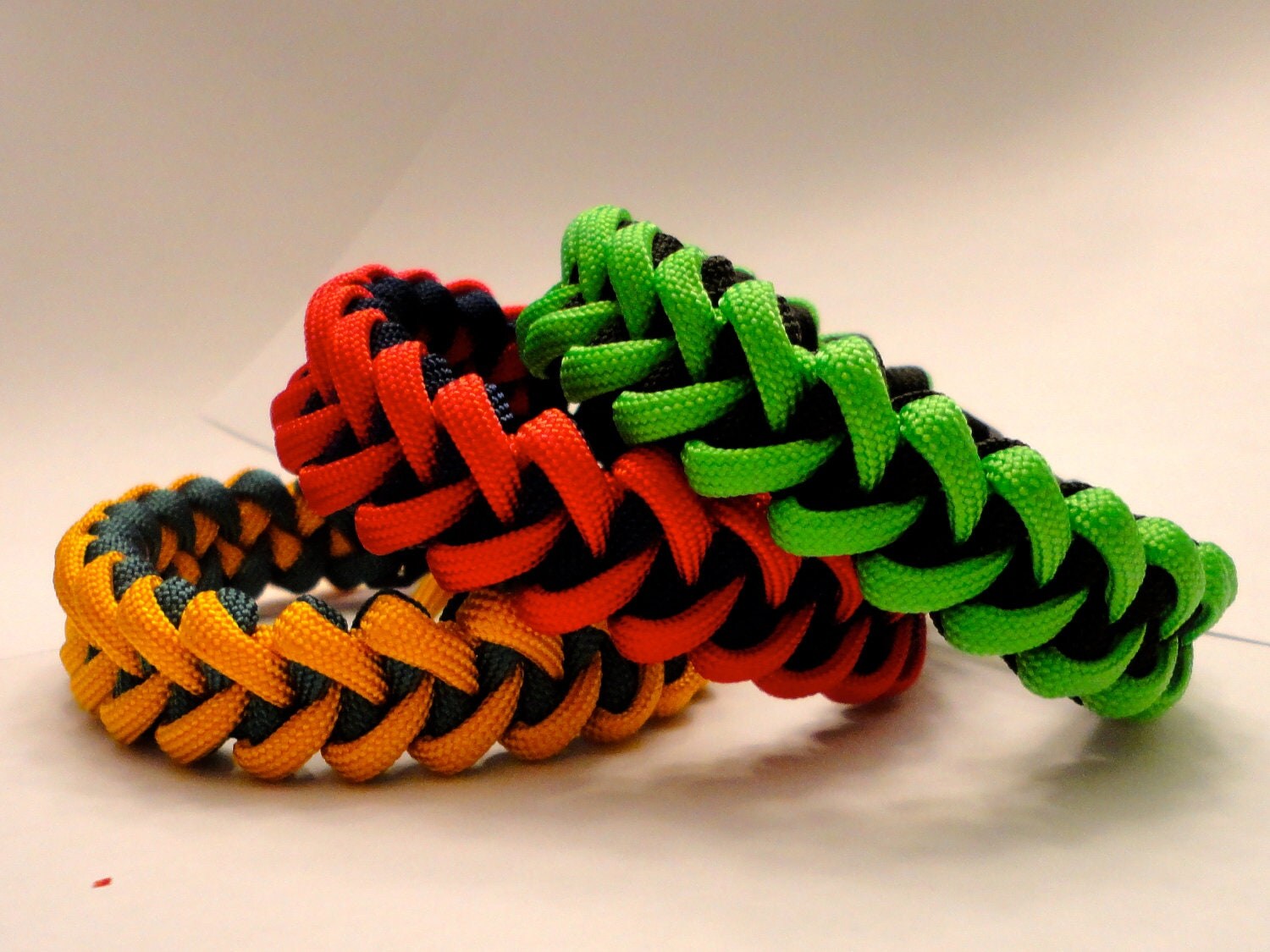 Paracord bracelets
I truly like these adorning my wrists. The mere thought that if need be, one can hog-tie a person with the five feet of cord on my person is a utilitarian comfort. The alternative to a paracord bracelet are metal or leather accessories, and that is less modular than these woven trinkets. Above all else, these are fairly simple to create, and the cost of materials does not break the bank. Make some as gifts, and surprise me with a bracelet or two. Colored neon green and bright blue. Thanks.
Graphic tees and other clothes
The State of the Graphic Shirt Union is one of prosperity. It is fun to spot the variety of designs running rampant on human clothing, very much like watching wild animals in their habitat. The assuring part of the graphic tee designs that have flooded the market is the idea of a shirt being found at Target that looks better than one found at Lucky Brand. Score one more for the consumer.
Period-inspired clothing
and other accents
Fashion is vaguely cyclical. Old trends come back around as re-packaged uniforms for the hipster armada. Of particular note was the allusion to style that was the norm a whole century ago. As forward-thinking as we can try to be, we will continue to look back and find bits of inspired concepts to appropriate. I am okay with society looking like this is Boardwalk Empire and men wearing suspenders under a waist coat (vest) adorned with cravats and pocket watches under a masculine trench coat and fedora. I am even more attracted to the idea of fashion sense dipping into the Victorian and continental European style.
The Nineties
Speaking of revivalist notions, I foresee the zombification of 1990's wardrobe to continue its upswing for years to come. This was the age of my youth. The late 80's and the early 90's in the west coast was a radical time for clothing trends. Neon clashes, zany patterns, cover-alls, mis-match galore, and I cannot wait for more of this departure.
Skirted Peplum
This was one of the sexiest things I saw all year being worn by women. It references historical values and is very modifiable to stealthily blend into contemporary limits. Whether matched with leggings and boots, or sheer skin and high heels, peplum styles go well with all female wardrobes. That is fashion sense that deserves applause; it is not so extreme to discourage, not so bland to be neglected, bold form melded with elegant function.